Donovan Pearase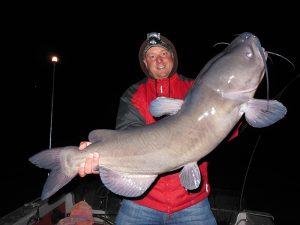 Owner of Blackwater Cats Outfitter, Donovan Pearase is a river rat that has spent the majority of his 45 years following his love of sport fishing fishing. A few memorable seasons spent guiding on sunset countries famous Lake Of The Woods occupied his early twenties, his heart has always belonged to the tireless pursuit of monster Red River channel catfish. An expert catfish guide with over 30 years experience catfishing on the Red River throughout the seasons, Donovan believes in hard work and going the extra mile to ensure his guests have a great day on the water. He prides himself on  being prepared for whatever the Cats can throw at him. From netting suckers to catching goldeye, and capturing a variety of other seasonal bait preferences, there's always plenty of fresh catfish bait on hand to lure the kitties. After a day on the water with Donovan as your catfish guide you will have a new respect for catfishing and learned a thing or two about the Red River channel catfish.As the areas premier 4-seasons fishing outfitter Donovan switches gears in September and focuses on Manitoba's famous fall run of Lake Winnipeg greenback walleye. His fall fishing season is spent on Lake Winnipeg, the Red River and Winnipeg River chasing trophy fall walleye. The trophy walleye pursuit continues through the winter and into the Lake Winnipeg ice fishing season where he spends the winter hunting down large schools of walleye for his guests.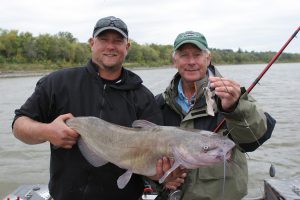 Donovan Pearase and his team at Blackwater Cats Outfitter has gained a solid reputation for great service and great fishing through years of hard work and determination which opened up several exciting media opportunities in print and television. He has appeared on In-Fisherman TV and Fords The Outfitters both on the Sportsman's Channel, as well as on Jason Mitchell Outdoors. A bucket list highlight for Donovan was getting to fish with his personal mentor and In-Fisherman, Editor In Chief Doug Stange.
Besides writing and contributing to online blogs in WFN, IN-Fisherman, and Outdoor Canada, Donovan has written articles for Just Fishing with Big Jim Mclaughlin, Hooked Magazine and in 2013 co-founded Manitoba Outdoors. There he filled the role of chief editor, staff writer and co-host of several of their TV and web based fishing shows.
Donovan lives and breathes fishing and is proudly sponsored by many of the industry's finest companies who are known for quality products and cutting edge innovation. Guests of Donovan Pearase and Blackwater Cats Outfitter get introduced to some of the best gear and equipment in the fishing industry.
---