2021 – 2022 Lake Winnipeg
Ice Fishing Rates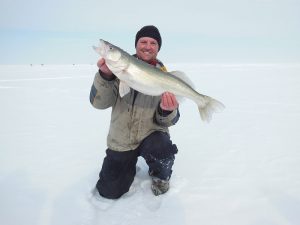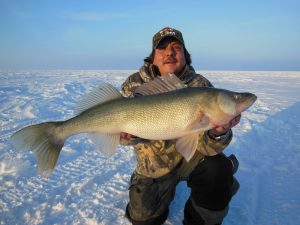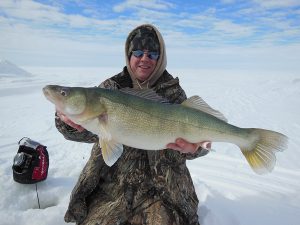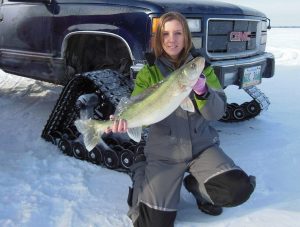 ---
2021 – 2022 Lake Winnipeg Ice Fishing Packages
How to book your trip:
Please select the appropriate trip for group and email us after considering the follow information:
All trips are booked assuming 4×4 truck travel on the lake. January and the last week of March is best for truck travel.
February and most of March generally requires tracked equipment. If you do not have tracked equipment to access the lake in difficult conditions please select the trip best suited to your needs.
Guides leave the ice at 4:00pm, self equipped guests may fish longer on their own
1.
The Walleye Slayer
Guided Lake Winnipeg Ice Fishing Trip
(Most popular trip)
$550USD

per day Tax inc. 1 – 8 guests

Guests provide their own gear, equipment, tackle and specifically transportation by 4×4 truck or tracked machine (snowmobile, tracked ATV etc). We have some extra fishing equipment to borrow if required.
($68.75 US extra per guest per day for each guest over 8)
We are well known for our work ethic and drilling holes however it only benefits you to bring augers especially large groups with multiple vehicles, therefore we recommend guests bring at least 1 good working auger for each vehicle for maximum mobility.
Large groups of 5 guests or more guests

MUST

bring at least 1 good working auger to assist in

drilling holes when needed or you will be charged an extra $100 US per day
2. The Corporate All-Inclusive
Trucks Only Lake Winnipeg Ice Fishing Trip

(January Bookings Guaranteed)
$600USD

per Day Tax inc. 3 guests max

3 guests max in the guides truck. If needed we will supply all gear, equipment, tackle tents heaters etc for your trip. This is a popular trip for first timers, casual fisherman and corporate groups. Multiple guides available for large groups.

If booking this trip in Feb or March

and Truck access is not possible you will have to provide

transportation for your group or we will be limited to where we can fish. If you cancel because you don't have tracks you loose your deposit)
3.
Deluxe Track Truck All Inclusive
Lake Winnipeg Ice Fishing Trip
(Monday to Friday Only)
$800 US

per Day Tax Inc. 1 – 4 guests

If needed we will supply all gear, equipment, tackle, tents, heaters etc for up to 4 people traveling in the Blackwater Cats tracked Suburban.
If the lake is Accessible by 4×4 truck this trip will revert to truck travel. package #1 or #2
4.
Snowmobile Rental
 

$150 US

per Day Tax Inc. 1 guest max

If you group has already booked a trip with Blackwater Cats and you are short tracked transportation for 1  guests we can rent you a snowmobile.
---
Blackwater Cats hosts several corporate and group fishing trips each year
Please contact us for group and corporate rates dcp1@mts.net / ph. 204-990-2171 We can customize your trip to meet your needs and accommodate large groups.